Exhibition
Videoloop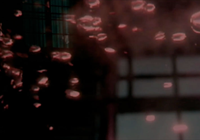 Monoton roter Gnom
Length: 07:11 min
Vienna 2016
Vera Sebert was born in 1987. Between 2007 and 2015 she studied fine arts at the Hochschule für bildende Kunst Braunschweig and at the Akademie der bildenden Künste in Vienna. Since 2015 she is studying linguistic arts at the Universität für Angewandte Kunst in Vienna. At the moment she lives and works in Vienna as an artist, film-maker, author, programmer and more.
Fragments of texts, moving light sources in form of abstracted aquaria, windows and screens show up, overlay and merge, and disappear again in a black, shapeless space. In a sphere that cannot either be air of water, the glowing composition catches the eye and seduces the recipient into an oblivious, hypnotic stare. The disconcerting sound of fish voices, artificial colors and well-directed, rustling recordings, appeal to the senses and produce on its own in no need of a story line.
---
Videoloop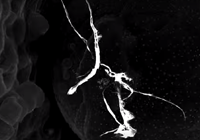 NanoTropics
Length: 04:30 min
Duisburg 2015
Lukas Helmbrecht is a nanoengineer and film-maker. Cornelius Koch is a film-maker and musician. Together with Thomas Bittel, they make up 'metaphonetik'.
Scanning electron microscopy (SEM) images rarely leave their scientific habitat, but this time they set forth to dance with electronic beats and created a hybrid of experimental film, music video, and documentary. During the past four years, participants of Professor Winterer's Nanoparticle Processtechnology research group at the University of Duisburg-Essen, captured more than 17000 images with their SEM. Inspired by these strange pictorial worlds, the band "Arbeitsgruppe Metaphonetik" wrote NanoTropics. By carefully arranging images, Cornelius Koch and Lukas Helmbrecht formed an audiovisual collage that made years of top level research come to life in minutes. These synesthetic fireworks take the spectator on a journey into a marvelous nano jungle.
---
Videoloop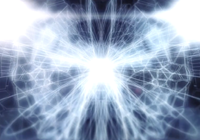 SoN01R
Brussels 2016
Length: 07:49 min
Frederik De Wilde, born in 1975, studied fine arts at St.-Lukas Brussels and at The Royal Academy of Fine Arts Antwerp. Frederik concluded his studies with a post-graduate degree in new media, arts and design at Transmedia in Brussels (MA). De Wilde is part of the Carnegie Mellon Moonark team. In 2016, in collaboration with SpaceX and Astrorobic, he'll bring his art to the moon. De Wilde is most famous for his blacker-than-black art in collaboration with NASA and Rice University.
How can one visualise something immaterial, short lived and universal as quantum fluctuations?
SoN01R is an artistic realtime data visualisation and sonification of the quantum vacuum, the lowest energy state of the invisible universe. By tapping into a physical quantum source, De Wilde  generates real, random numbers which drive the audiovisual work SoN01R (coded in Processing). In general, perhaps the most important effect of quantum theory on art is being an admonition of sorts and also being a challenge. The world is not a Turing machine, a perfect logical computation machine. Our apparently solid and predictable world is based on an underlying reality that does not operate by deterministic one-way cause and effect, but by a strange sort of harmonic correspondence among indeterminate entities, whose very being is only a probability.
---
Videoloop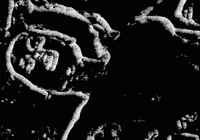 Dust
Length: 03:42 min
Israel 2015
Daniel Wechsler, born 1982 in Israel, is an emerging video and print artist. Focusing on the creation of new video techniques, he uses computer errors and malfunctions to create visual 'bugs'. Enabling reflection on personal and collective trauma. Seeking new ways to touch old wounds.
The visual technique for 'Dust' is a result of user and CPU mistakes that has no official name, yet. The new visual behavior being created is a random and unstable glitch, replacing the objects outlines with arrows and single pixels. From that point on, it only seemed natural to combine one fatal error with a few minor ones. 'Dust' is an abstract video work, observing the bombing and the aftermath of Hiroshima and Nagasaki, in a new form.
---
Videoloop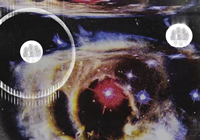 S.C.A.N. - Searching Alternative Nature
Length: 06:43 min
Hungary 2015
Dénes Ruzsa and Fruzsina Spitzer have been working together since 2006. They have been making short films and documentaries. Their films have been showed at over two hundred film festivals and exhibitions worldwide. They also work as photographers for books, catalogues, and art magazines.
With the invention of the telescope and the further development of technology, we have gotten a more and more detailed picture of the world around us. We learned more and more about the stars and their birth and death. Stars provide the essential light for life. We discovered that almost every chemical element in our body was formed inside the stars. Even the formation of our solar system is also caused by stars that lived previously. The formation of our galaxy is the result of a supernova shock wave. Our existence is a natural consequence of the existence of stars. Thus, we could claim that there are distant relatives living in distant galaxies out there. The animation was made without using a camera. Each frame was generated or reproduced with a flatbed scanner.
---
Videoloop
Ichographs MdelP
Length: 04:23 min
Athens 2015
Yiannis Kranidiotis is a new media artist and musician. His works focus on creating spaces and experiences by combining sound and light. By isolating minimal concepts, new perspectives are created which reveal an inseparable relationship between science and art. This requires a cross-disciplinary work with music, sound art, visual arts, electronics, physics and coding.
Ichographs MdelP (Madonna del Prato) is a sound and picture artwork that explores the relationships between colors and frequencies.
Ichographs is a method of creating soundscapes using visual stimuli and the color-frequency transformation. The painting is transformed into the audio domain and back to visual, thus producing a contemporary fusion. As we pass through the various color/frequency layers, we investigate the connections between classical aesthetics and the digital practice, revealing a latent version of the old masterpiece. The final artwork is a contemporary amalgamation of the old painting and the modern abstraction methods, a harmonious dialog between the old and the new, the analog and the digital.
---
Videoloop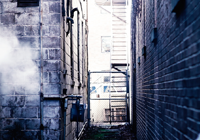 Vestal Fire
Length: 08:34 min
USA 2016
Alex Ingersoll is Assistant Professor of Media Studies and Production in the Division of Communication at the College of Fine Arts and Communication at the University of Wisconsin-Stevens Point. Much of his work explores the aesthetic and sonic environments of our social imaginations of space and the tension among neglected and marginalized ideas and machines. Using experimental and animated approaches to the moving image, he is interested in the productive possibilities that come from our experiences and encounters that have undefined edges and features.
As carbon simmers, the digital blooms. An expectant mother receives a call after dark that opens up a world of absence. With this work, he is interesting in exploring cinematic media as a means by which nature is expressed and modified through experience and memory. This includes playing with affective techniques of anticipation and indirection as a mundane condition of the sublime. This project is rooted in the age of the anthropocene and outlines a phenomenology of horror where we gesture towards a world beyond the human.
---
Objekt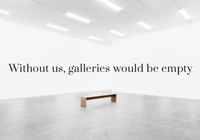 Breithirsch Consulting
room installation, performance
Stuttgart 2015
Breithirsch.com is a fictitious consulting agency that helps artists with questions of idea finding, project realisation and market positioning.
During the exhibition, Breithirsch Consulting presents itself and allows visitors to gain an insight into the company's work methods. To make it tangible: visitors are getting the possibility to ask Breithirsch's advice. Problems and creative crises occur on a regular basis. Breithirsch helps his costumers in finding new ideas, creating a convincing portfolio, and in expanding their professional horizons. The exhibition booth will be equipped with info brochures, business cards, and above all references. In the last two years, Breithirsch has given advice to a number of artists for which the company produced several installations.
---
Objekt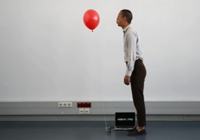 Love from a Balloon
interactive installation
Berlin 2015
Jaehee Jung was born 1982 in Korea and studied sculpture at Chung-Ang University. After graduating, he moved to Germany and studied sound art at Braunschweig University of Art and new media art at Berlin University of the Arts. He is interested in the recontextualization of everyday objects and everyday sounds, especially electronic products and their functional sounds. Through the recontextualized objects and sounds, he presents new perspectives on human life.
What is love today? The balloon that inhaled helium gas for flying high, lost its own voice and just repeats the sentence, "I love you, my dear client!"
"I love you, my dear client!" is a welcome greeting for customers in some banks, restaurants and shops in Korea. It can also be heard, when someone calls the customer service.
---
Objekt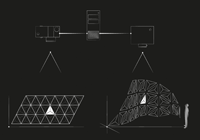 Workshop result
mapping, animation, stop motion
Jakob Stolz is studying architecture at Bauhaus University Weimar. Since he started his studies, he has been concentrating on the entanglement of space and media.
Exhibited is the result of Jakob Stolz's S1 - Mapping System Workshop.
---